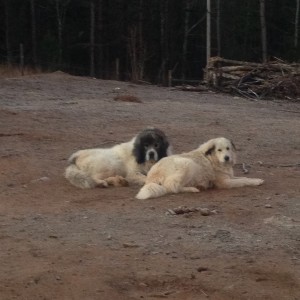 **Puppies expected Spring 2018!!**
We have eight Great Pyrenees, Kusko, Kyia, Layk, Jasmine, Greta, Mishka, Huckleberry, and our newest little homegrown baby Fiona, who guard our pastures at Rockin' H Farm. The Great Pyrenees, also know as the Pyrenean Mountain Dog, are a great breed of livestock guardian dogs. It is a very old breed used by shepherds in the Pyrenees Mountains of France and Spain. Males grow to 110–120 pounds and 27–32 inches tall, while females average 80–90 pounds and 25–29 inches tall. Their lifespan is about 10 years on average.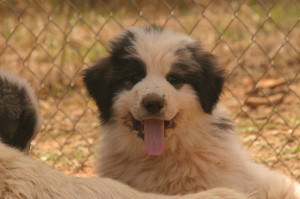 Many of our Pyrenees are colored, which is within breed standard. They are very hard to find in North America, as many US breeders in the past bred only white Pyrenees. The main coat color is white and can have varying shades of gray, red, or tan around the face, ears, and base of tail, as well as a few spots here and there on the body. As Great Pyrenees mature, their coats grow thicker and the colored hair often fades. The Pyrenees has a double coat. A long, flat, straight outer coat of coarse hair that lays over a thick, woolly undercoat. The coat is more lavish around the neck and shoulders where it forms a mane. This is more pronounced in males and was developed so they may fend off wolf attacks. Being a double-coated breed, the undercoat can also have color, as well as the skin. We know our Kusko is covered in spots when shaved!
One very unique characteristic of the Pyrenees is their double dew claws on each hind leg.


The Great Pyrenees is confident and gentle, especially with young animals and children. The general demeanor is patient and loyal, while being territorial and protective of their flock or family when necessary. They are attentive, fearless and loyal to their duties. The Great Pyrenees' size makes it an impactful guardian. It protects its flock by barking, and patrolling it's perimeters at night staving away predators.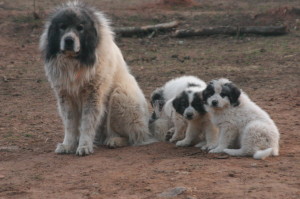 We have litters planned for Spring and Summer 2018. Please Contact Us if you are interested in reserving a puppy for your farm or family. We are now accepting deposits of $150 to hold a Great Pyrenees pup.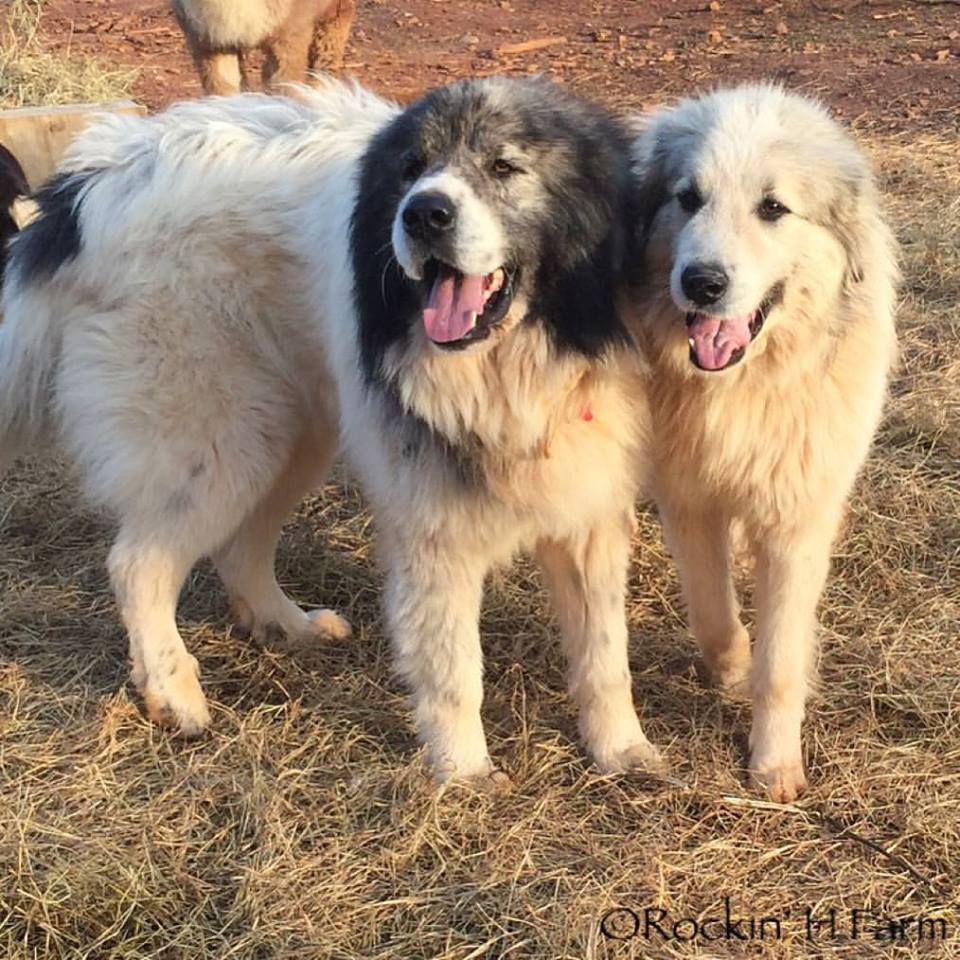 Puppies are $425 and will be ready 10 weeks after whelping. We nurture our puppies until 10 weeks to ensure the best natural health and social skills from mom and siblings. They will have their first vet visit and are also fed a great no wheat, no corn, no soy diet to prevent unnecessary allergies and promote great health. Please Contact Us if you are interested in adding one of these beautiful pups to your farm or family! See more photos of the puppies here.