Rockin' H Farm is home to heritage breed Ancona ducks. This breed is considered critically endangered by the Livestock Breeds Conservancy. These birds are known to be a hardy, adaptable, all-purpose duck.
The Ancona is a flightless domestic duck that mature to 6.5 pounds on average and are a stocky built duck. There is no set design to their broken color pattern. The Ancona is an excellent layer, laying 210-280 white, green, or blue eggs yearly. They also grow quickly and produces high quality meat that is more flavorful and less fatty than Pekin ducks. The Ancona typically have relatively calm temperaments and make good homestead ducks as they tend to stay closer to the home.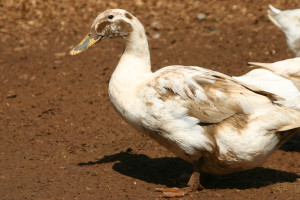 The broken, speckled plumage is unique among ducks and there is no set design. "Any combination of white and color is acceptable as long as there are obvious broken areas on the head, backs, sides, and underbody." The bills are yellow with green or black spots. The feet ad legs are orange with black or brown patterns. We will strive to produce all possible colors in our flock, including the typical Black, Chocolate, and Blue, as well as the less common Lavender, Lilac, Silver, and Tri-color. You can see color example photos on our color examples page.
We have duck eggs for consumption for $8/dozen.
Hatching eggs are available for $50/dozen shipped.
We will also have Ancona ducklings periodically throughout the year for pickup or shipping.

Ducklings are sold Straight Run only until they are fully feathered and quacking (around 10 weeks). Pricing is based on age of ducks at pick-up.
**We recently learned to sex ducklings and can do so at age 3-7 days. Prices for these ducklings are $12-$16 depending on age.**
We currently have a few whole ducks in the freezer still available and will have more duck meat available starting in Summer 2016.
online
online online