Rockin' H Farm currently offers eggs 3 ways: Full chicken dozens at $4/dozen, half chicken/ half duck dozens at $6/ dozen, and full duck dozens available at $8/dozens (limited quantities).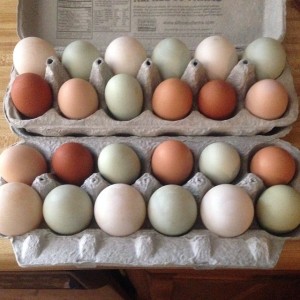 Our fresh eggs are rich and nutritious with beautiful orange yolks you can only experience from the farm! Our chickens free range in our newest pasture and ducks range in our very own custom coops on green grass and insects.
Duck eggs have a very similar taste and consistency to chicken eggs but are superior in many ways.
They are often described as having a richer and creamier taste. Duck eggs have twice the nutritional value, more vitamin content and omega 3 fatty acids, and have a thinker shell, aiding them to stay fresher longer. They also have more albumen which makes them great for baking. This added protien makes cakes and pastries more moist and rich and makes these eggs great to use in Gluten Free recipes to better bind the ingredients, providing a lighter, fluffier texture. Chiefs also prefer duck eggs when making cream and custerd fillings.