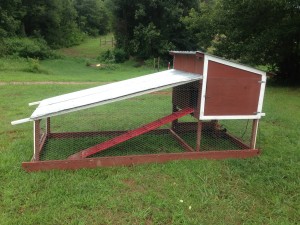 The Raised Coop & Tractor design is 4′x 11′ enclosure, with a ramp up to 3 nesting boxes and one perch in the upper part box portion, which also has two doors- one on each side- for easy access for egg collection and cleaning of the coop. It is also equipped with a door in the rear of the lower grazing area for easily adding and removing feeders and waterers. This design is great for chickens and rabbits and can be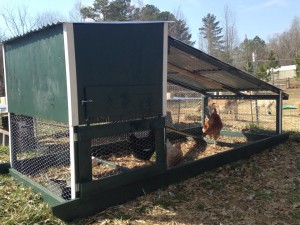 customized to any color and can come with or without wheels. If you have ideas for other customizations let us know and we will do what we can to accommodate your requests. This design could also work well for rabbits.These are $525 without wheels and $555 with wheels.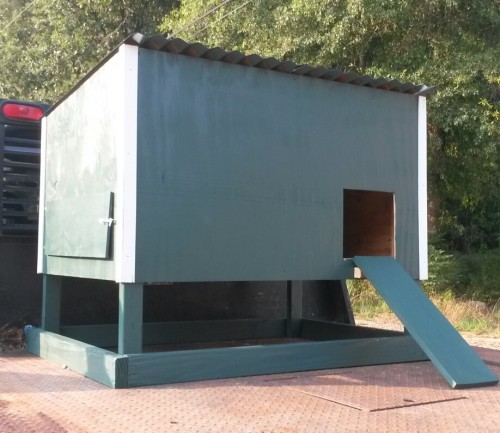 The Just The Coop design is a 32″x48″ stand alone coop for those of you that free-range or have a fence or pen already set up. It has a ramp for the chickens on the front, a perch inside, and 3 nest boxes with a small door for egg collection on one side and a large door for cleaning on the other. This standard option is $250. Larger custom designs can be discussed.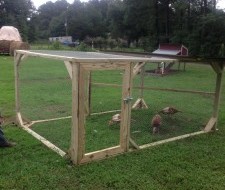 The Tractor design is fully customizable to any size. The standard size is 6′x10′ and is completely open with a roof over about half, a large perch that easily accommodates 3 turkeys, and an entry door. This design is perfect for turkeys, broiler chickens, ducks, quail, rabbits, or other grazing animals. The standard size is $325, please contact us for price quotes on other sizes.
All designs are made to order and can be delivered within 15 miles at no extra charge ($0.50 per mile after that). Time to completion will depend on number of orders at time of request.