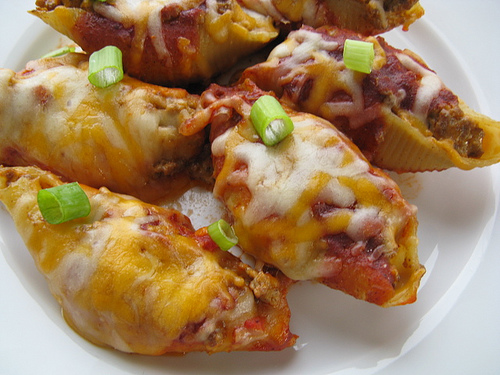 Taco Stuffed Shells
A great twist on a family staple and a fun alternative to the usual Italian stuffed shells. Add your favorite taco toppings to make it your own!
Ingredients
1lb ground beef, deer, or turkey
1 package taco seasoning
1/2 cup chopped jalapeños
1 4oz package cream cheese
12 large pasta shells
1 cup salsa
1 cup taco sauce
1 cup shredded sharp cheddar cheese
1 cup shredded Monterey jack cheese
1 ½ cups crushed tortilla chips
1 cup sour cream
Preparation Directions
1) In a large pan cook beef. Add taco seasoning and jalapeños, cook on medium heat until brown.
2) Add cream cheese, cover and simmer until cheese is melted. Blend well. Set aside and allow to cool. While beef is cooking, cook the pasta shells, drain and toss with butter.
3) Preheat oven to 350° Pour salsa in the bottom of a 9 x 13 inch baking dish. Stuff each shell with the meat mixture. Place the stuffed shells in the baking dish and cover the tops of the shells with taco sauce.
4) Cover and bake for 30 minutes.
5) After 30 minutes, uncover, and sprinkle crushed chips and shredded cheddar and Monterey jack on top.  Bake about 15 more minutes. Serve with sour cream, additional salsa, black olives or whatever you like with tacos!