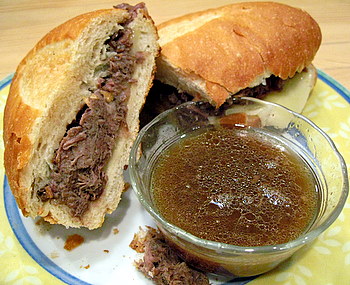 Slow Cooker French Dips
Easy and delicious slow cooker French Dips. Tenderly roasted beef, lightly toasted french rolls, cheese, mushrooms, and perfect au jus. Can't get much better than this Cafe quality meal made quick and easy at home!

Ingredients
approx 3 1/2 lbs beef chuck roast
16oz. beef broth
1 10.5oz. can condensed French onion soup
6-oz red wine
1 tsp (or more) garlic powder
8oz. mushrooms (optional)
salt and pepper, to taste
4-6 French rolls
sliced provolone cheese, or other favorite cheese
Preparation Directions
1) Place roast and mushrooms in slow cooker and pour beef broth, soup, red wine, and garlic powder on top.
2) Cook on low for 6-8 hours until tender and falling apart easily.
3) Lightly toast the bread and evenly distribute cheese between rolls, if using.
4) Divide beef onto rolls and spoon the *au jus (remaining liquid) into ramekins and eat everything while it is hot. Serve each sandwich with its own dip.
*Note: If your au jus contains excess fat, pour it from the slow cooker into a measuring cup and let it stand for 5 minutes. The fat will separate. Skim it off with a spoon and pour the liquid into serving cups.