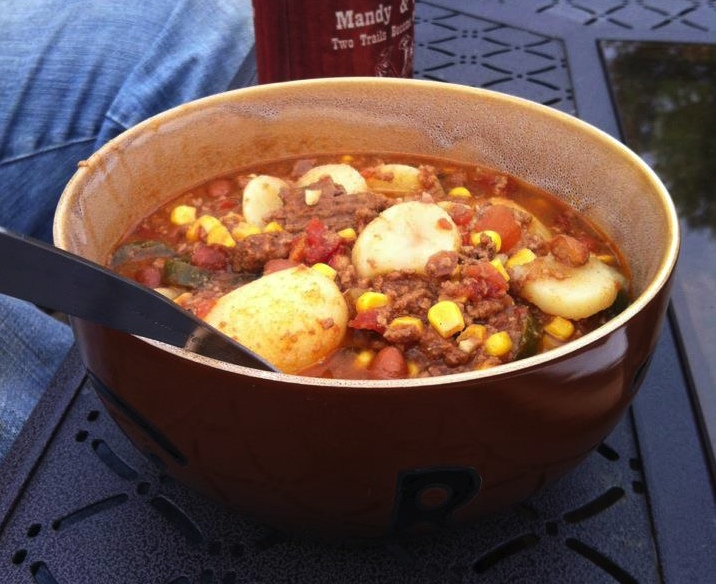 Slow Cooker Cowboy Stew
This is a really yummy recipe. Similar to chili but with a bunch of yummy extras!
Ingredients
1 pound browned hamburger (can use turkey or deer)
2 cloves chopped garlic
1 can tomato sauce
1 can diced Italian seasoned tomatoes
1 can corn, drained
2 cans whole baby potatoes, drained (you can also use sliced potatoes if you prefer)
1 can HOT Rotel (or mild if you like it less spicy)
1 can Ranch Style beans (with the baked beans in the grocery store)
1 cup water
sliced pickled jalapeño peppers to taste (optional)
crushed red pepper flakes
Preparation Directions
Make sure that your slow cooker is at least 5 quarts.
1) Brown the hamburger with the chopped garlic cloves on the stove top. Drain the fat (this step can be skipped if you use deer or turkey).
2) Open and dump all cans into the crockpot. Drain the corn and the potatoes, add the rest of the can liquid to the crockpot. Add jalapeños and red pepper flakes to taste.
3) Add the browned meat and one cup of water. Stir.
4) Cover and cook on low for 8-10 hours, or on high for 4-5. The longer you cook it, the more tasty it is!
NOTE: Do not use fresh potatoes. These will disintegrate in the CrockPot.