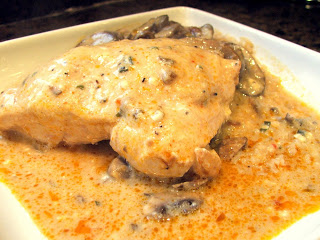 Easy Italian CrockPot Chicken
Easy, delicious Italian chicken. Versatile- great left as whole breasts or shredded. Goes well with rice or your favorite pasta. And the best part is- You just throw it in the CrockPot in the morning, and have a great dinner when you get home!
Ingredients
4 boneless, skinless chicken breasts (about 1.5 pounds)
1 8oz. package of fresh button mushrooms, sliced
1 6oz. package of fresh shiitake mushrooms, stems removed, caps sliced
(Can be replaced with other varieties or cans of mushrooms if preferred)
1/4 cup butter
1 0.7oz. packet of Italian dry salad dressing mix
1 10.75oz. can condensed golden mushroom soup
1/2 cup dry white wine
4oz. cream cheese spread (with chives and onion if desired)
Hot cooked rice or angel hair pasta (when ready to put it all together.
Preparation Directions
1) Put soup, wine, and cream cheese in CrockPot on high for 10 minutes. After heated, the cream cheese mixes more easily into the other ingredients (this step can be skipped if short on time).
2) Stir in Italian dressing mix.
3) Add butter, mushrooms, and chicken breast and make sure the chicken is covered with the sauce mixture. Cook on low for 4-6 hours (6-8 hours if chicken is frozen).
4) When you get ready for dinner, cook rice or pasta to package directions. Shred chicken with two forks if desired.
5) Top rice or pasta with chicken and ENJOY!
Adapted from Cleverly Inspired. Seriously, all the stove prep is not necessary!