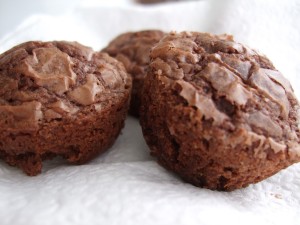 Nutella Brownies
Only 3 ingredients and super delicious. These savory little brownie bites are sure to be a big hit for any occasion!
Ingredients
½ cup Nutella spread
1 large egg
5 tablespoons all purpose flour
Preparation Directions
1) Preheat oven to 350 degrees.
2) Line a mini muffin pan with paper or foil liners or grease well.
3) Put Nutella and egg in a medium bowl and whisk until smooth. Add flour and whisk until well blended. *A KitchenAid works well for this too, especially if you are doubling or tripling recipe.
4) Spoon the batter into the prepared muffin tins (about ¾ full).
5) Bake 11 to 12 minutes, until toothpick comes out with gooey crumbs. Set on a rack to cool completely.