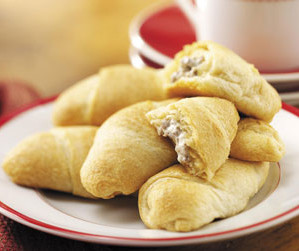 Snake Bites
Beef, jalapeño, and cream cheese stuffed crescent rolls. These little treats are a yummy choice with a little kick!
Ingredients
1 pound ground beef, deer, or turkey
4 oz jalapeños (or can of green chilies for a milder version)
1 8oz package of cream cheese
1/4 teaspoon chili powder
1/4 teaspoon crushed red pepper
1/4 teaspoon ground cumin
3 8oz tubes of refrigerated crescent rolls
Preparation Directions
1) Preheat oven to 375°.
2) In a large skillet, cook beef and jalapeños over medium heat until beef is browned throughout. Drain and add cream cheese, chili powder, cumin, and crushed red pepper.
3) Open crescent rolls and separate into 24 triangles. Place 1 tablespoon of beef mixture in each triangle and roll up.
4) Place 2 inches apart on ungreased baking sheets, pointed side down. Bake 11-14 minutes or until golden brown.
Makes 2 dozen.