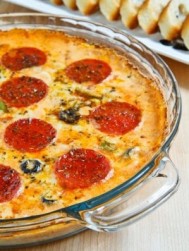 Pizza Dip
This hot, cheesy pizza dip is great served with toasted garlic Italian bread slices. This recipe can be modified to include any of your favorite pizza topping. Get creative!
Ingredients
4 ounces cream cheese, room temperature
1/4 cup sour cream
1/4 cup mayonnaise
1/2 cup mozzarella, shredded
1/4 cup parmesan, grated
1 cup pizza sauce
For Topping:
1/2 cup mozzarella, shredded
1/4 cup parmesan, grated
2 ounces pepperoni, sliced
Dash of Italian seasoning
Preparation Directions
1) Preheat oven to 350°.
2) Mix cream cheese, sour cream mayonnaise, mozzarella and parmesan. Spread it across the bottom of a glass pie plate.
3) Spread the pizza sauce on top and sprinkle on the mozzarella, parmesan, arrange the pepperoni, and sprinkle a dash of Italian seasoning over the top.
4) Bake about 20 minutes, until the sides are bubbling and the cheese cheese has melted and turned golden brown on top.
Slow Cooker: Layer everything in the slow cooker the same as in the pan and cook until the cheese is nice and melted about 1-2 hours on high or 2-4 hours on low.